Lest we never forget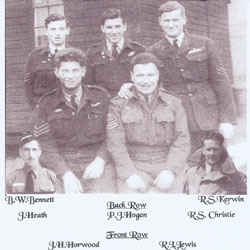 The Lancaster Mk.1 W4960 and crew took off from Binbrook at 21.47 hrs. on a mission to Dusseldorf Germany, it crashed on June 12th, 1943 about 02.05 hrs. AM near the town of Reeuwijk (prov. South-Holland, The Netherlands). The entire crew was killed. One of the very many crashes during the war. Fine young men trying to defeat the enemy and sacrifying their lives.
This website tells you the story about the crew, the squadron they were assigned to, the airplane they flew, the burial in Reeuwijk, The Netherlands and the reburial at the Jonkerbos War Cemetery, Nijmegen, The Netherlands and last but not least, the gravestone that was erected to commemorate the crew. Unfortunately the gravestone was lost in 1953. A new gravestone was unveiled on June, 11th 2008 in Sluipwijk, 65 years after the crash. It's an exact copy of the original gravestone. Click here to open a new window with 160 pictures of the whole ceremony.
There was a withness of the crash, Mr. Gerauld Valette.
June 21st, 1945 Mr. Gerauld Valette wrote a letter to the RAF:
...On the 12th of June 1943, a big bomber crashed and the whole crew of seven airmen was killed. Shortly afterwards, when the dead men were buried, my young son, Jack, who is now 15 years was so deeply touched by the simple but moving ceremony of the burial of those seven young men, that he, who is otherwise a quite normal, rough boy, vowed, that he would every year, on the same date (june 12th) put some flowers on the grave of the airmen...Then my son, again wholly on his own initiative, swore, that as soon as our protectors would be defeated, he would collect money from our neighbours to spend for a big garland for those young heroes...and it is through his initiative that a stone cross will mark the place where 7 young...
You can read the original letter below (first letter: "Letter sent by Mr. Gerauld Valette to RAF").
Click here to go to the letter.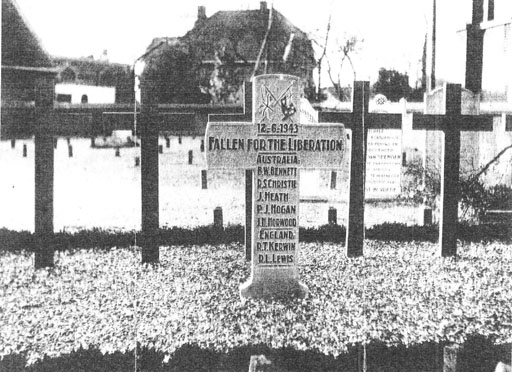 The original gravestone at Reeuwijk. Notice the wooden crosses behind the gravestone. Click here for a bigger picture so you can see more detail.
Until 1953 Jack brought flowers to the graves in Reeuwijk. In 1953 the remains of the airmen were put to rest in the "Jonkerbos War Cemetery" in Nijmegen, quite some distance from Reeuwijk. From 1953 to 1985 Jack visisted the graves about every year. Jack died on Februari 24th, 1990. His son, Charley, continued the tradition and more.
Charley was over the years in contact with the relatives and in 2007 the decision was made together with Wireless Operator R.L. Lewis sons Mike and John and John's wife Josie to erect a copy of the old gravestone in the Reeuwijk.
Logbook data and a personal letter
The last entry in the Pilots Flying Log was 10th June, Sgt. Christie being 1st Pilot
P/O Bennett, Sgt Heath, Sgt Horwood, Sgt Kerwin, Sgt Lewis as crew the duty noted as "Formation".
From the log book it appears that this team were together as crew for some time.

The last two active flying operations were with this crew.
May 25th Aircraft R4960 Operation Dusseldorf. Fuel 1500 gallons, Bombs 1 x 4000 lbs 12SBC, Bombed on T.I Markers, P.O Engine U.S from target.
May 27th Aircraft No S774 Operation Essen, abandoned with engine problems.
In Robert Christie's letter to his parents dated 27/5/43 he wrote.
"My score is now up to 8. I think it was 6 last time I wrote. The 7th trip to Dortmond was very uneventful , in fact I had no bother at all. The last one to Dusseldorf was a bit more exciting. The port outer engine caught fire about 5 mins after I dropped my load, Rege went to stop it and stopped the inner one giving two dead engines on one side. It made the kite hard to hold until he got it started again but nothing to worry about. The fire went out as soon as we cut the fuel off and I came home all the way on 3 engines with no bother at all. I had a look at the engine yesterday and it was a real mess. The supercharger had blown up and pieces got into the crankcase, there were con.rods and bigends everywhere. I am getting a new engine out of it.

The last fatal flight was the crews 10th operation over enemy line in Lancasters.

A telegram and several letters
Below you will find a telegram and several letters.
The first letter was written by Mr. Valette. The other letters are about the (re)location of the grave of the late Sgt. R.L. Lewis.
If you can read the letters on this page (fonts to small) click on the link below the letter to download a version that's twice as big. The letter will show up in a new window. Depending on the screen size you use the letter may appear as small as below. In that case you may have two options:
1. On most computers it is possible to click in the picture (that has opened in the new window). The picture will enlarge.
2. "Right-click" with your mouse on the link and choose for "Save target as..." and save the letter (picture) on your computer.
---
Telegram to Mrs Lewis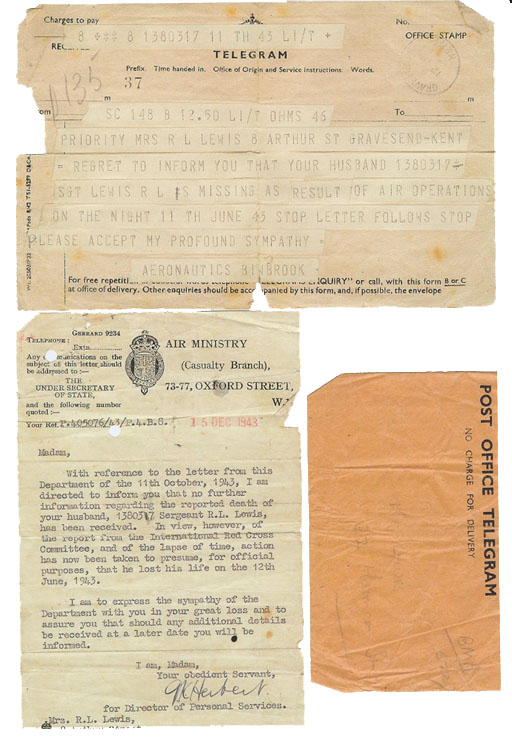 Click here for a higher resolution telegram.
---
Letter to the families
Letter send by Mr. Gerauld Valette to the families of the W4960 crew (this particular letter was send to the family of R.S Christie)
" Dear Madam or Sir - It is with some hesitation that I am writing you about your son, R. S. Christie, who, with six other airmen, died on June 12, 1943, when their bomber, returning form Germany, crashed in our neighbourhood. It would perhaps be better not to write you about your sad loss, but it may be that you wish to hear something of your boy's burial and grave."
"The burial took place in the end of June 1943. It was a quiet, sunny day when your son and his six friends were laid in a common grave in the old churchyard of our small village. The only words spoken were the Lord's Prayer, said by the parson. That was all. But that simple ceremony was so intensely touching that everybody, even simple and hardened men cried. My son Jack, who at the time was 14 years old, and who is otherwise a quiet normal, more or less a rough boy, was so deeply touched that he vowed that he would place every year on that same date some flowers on the grave".
Permanent Gravestone
Last year he did so, quite secretly , but of course, the inhuman Huns and their shameless Dutch friends immediately removed his little bouquet. He even swore if ever the Huns should leave, he again would honour the grave with a floral tribute. After our liberation, Jack - I am indeed proud to state it - took the initiative to collect some money for a big floral tribute, but the donations were so generous that we were even put into a position to order a permanent grave-stone, which will be erected instead of the wooden crosses, which now indicate the resting place of the seven young men.
" As soon as the gravestone will be put up we shall make a photo, and if you will kindly send me your address, I shall not fail to send you a copy. I would add that all the inhabitants of Reeuwijk most certainly see to it that your son's grave will be respectfully cared for. I most sincerely hope that my letter about your son will not renew your pain about your sad loss, and I pray that time may soften a little your sorrow".
---
Letter send by Mr. gerauld valette to raf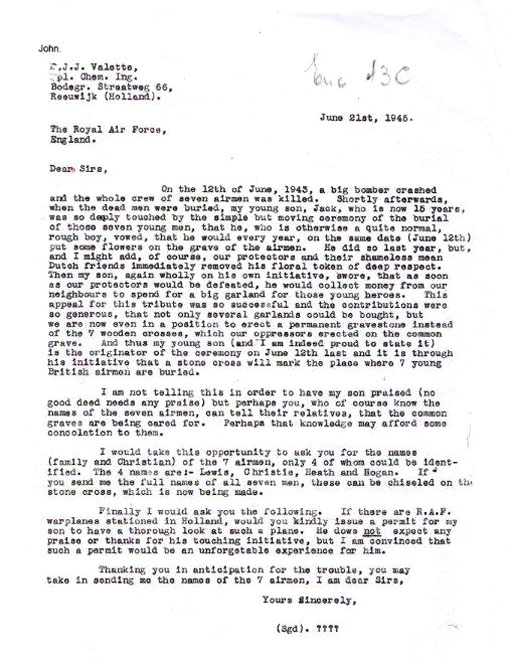 Click here for a higher resolution letter.
---
Letter from Air Ministry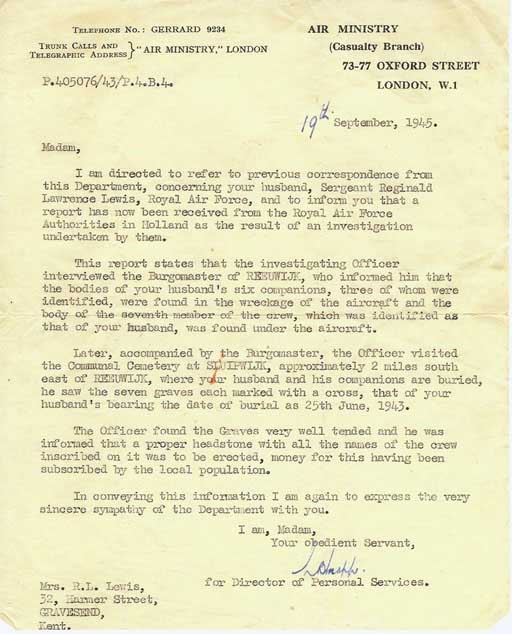 Click here for a higher resolution letter.
---
Letter about grave in Reeuwijk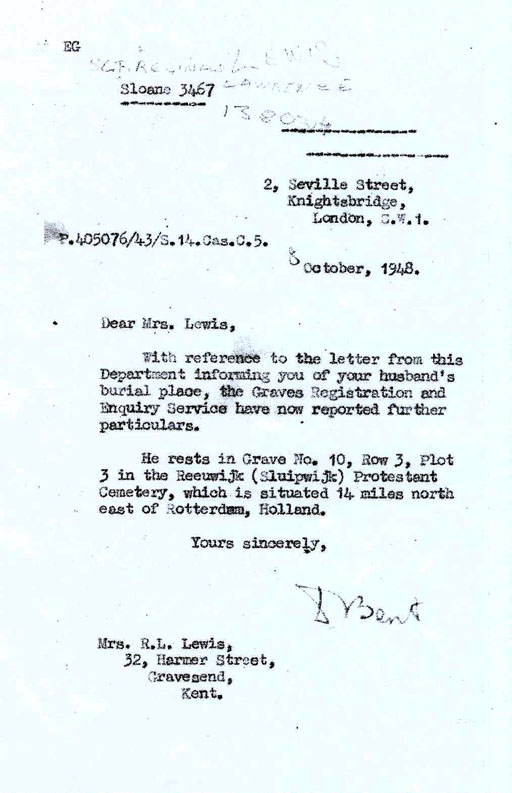 Click here for a higher resolution letter.
---
Letter about grave relocation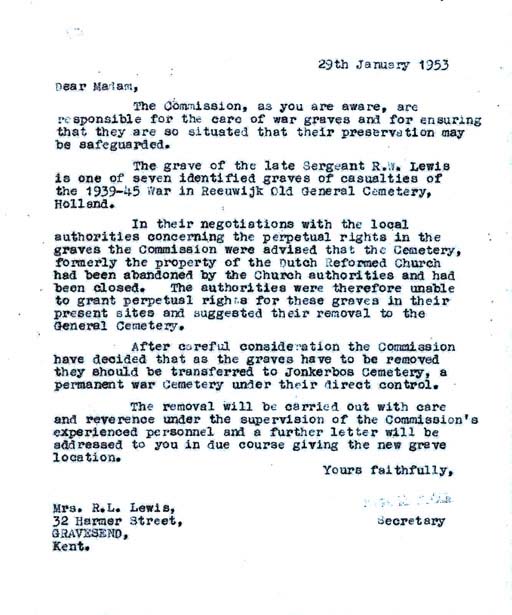 Click here for a higher resolution letter.
---
letter imperial war graves commission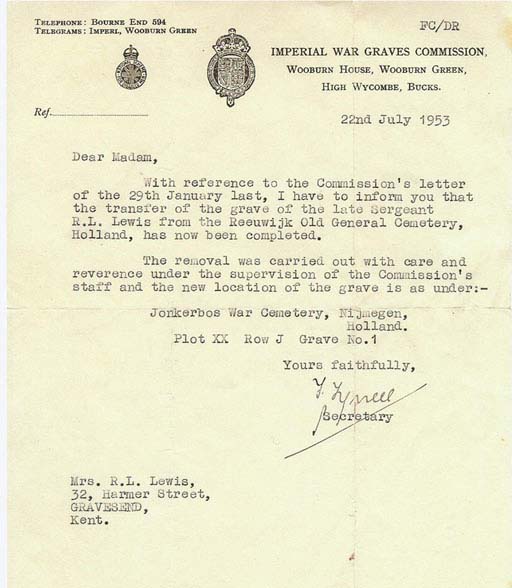 Click here for a higher resolution letter.
---
letter Netherlands war graves commission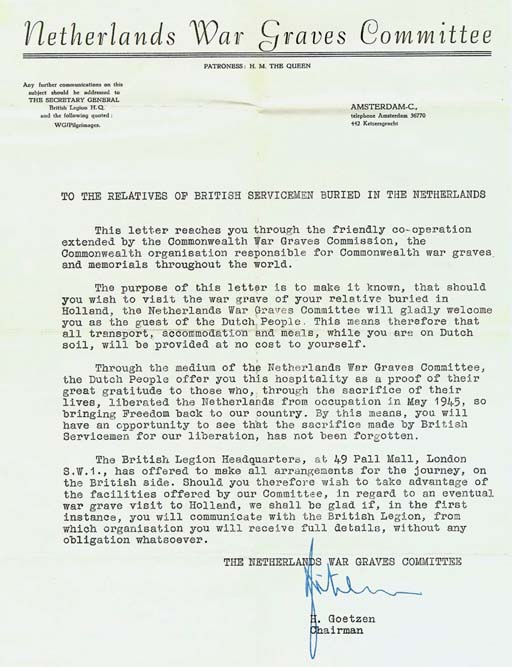 Click here for higher resolution letter.
---
Certified copy of an entry of death (R.L. Lewis)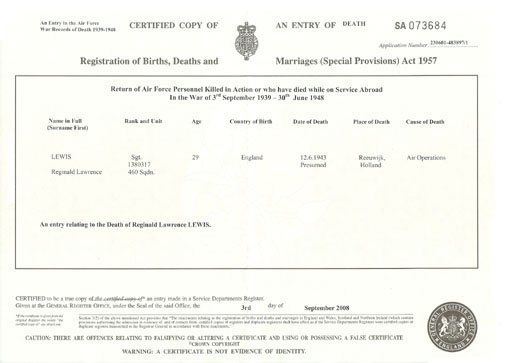 Click here for a higher resolution certificate.
---